I dont know much about football. And most of what I do know, I have to credit to Friday Night Lights and the ridiculously sexy Coach Taylor.
Love that man. So anyway, football is cool and all, but let's talk FOOD! Super Bowl Sunday is the second biggest eating day of the year, behind Thanksgiving.
Americans are expected to eat:
- 1200 calories from snack food & drinks over the course of the game (I think that's being a little nice, to be honest)
- 90 million pounds of chicken wings… 450 million individual wings! OR 225 million chickens! Poor little things!!
- 70 million pounds of avocados… Think that's enough guac?!
- 14,500 tons of chips and 4,000 tons of popcorn



So let's talk strategies, cuz whether you're watching your weight or not, binge eating through a football game isn't gonna get you closer to your dream bod or to a healthier you.
1. Move that tuchus beforehand. You're watching the game, not playing, so a little pump-sesh in the morning wont over-exert your energy. Promise.
2. Don't get wasted. Your case of the Mondays will be way less miz if you don't get too drunk. But if you're saying, "where's the fun in that?" at least do a girl a favor and skip soda&juice mixers and regular beer. I would never tell you not to have a bloody mary, so please eat the veggies!!
3. Nosh lightly. Eat normal meals beforehand. Don't "save calories" so you can eat the whole bowl of doritos. A) That's gross, and b) if you don't go into the game hungry, you're less likely to pick at things mindlessly.
4. Unhealthy friends? BRING a healthy option! Don't let friends sabotage your great eating habits. And your hosts will be happy.
Some tips:
Sit next to the crudit

é

s (Pronounced crew-dee-tay; a fancy way of saying veggies!). Hummus > blue cheese or other creamy dressing.
Popcorn is a good option,  assuming it hasn't been drenched it in butter (or cheese or other weird toppings… I'm looking at you, Brown/Swanberg family… Bacon popcorn is not an option)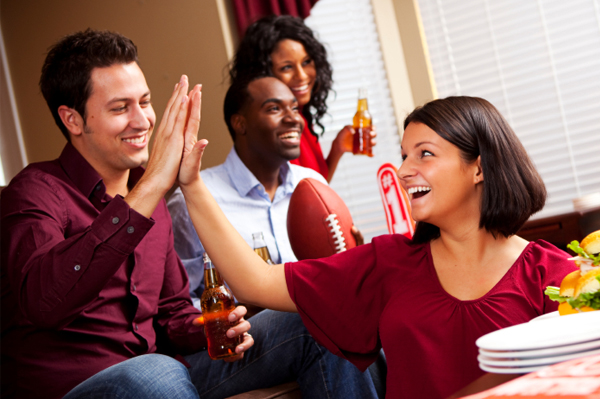 Do not sit that booty next to chips. Sit the random hot guy/girl you dont know between you and the potato chips/cheetos etc. You know there's always one!! Flirting is equally as satisfying as food. Ok, it's not always, but sometimes. (Do you love that super awkward picture as much as I do?)

You may not want to hear this… but lets talk

c

hicken wings

. Fried, thrown in a sugary bbq/teriyaki sauce and then dipped in blue cheese? Have a regular beer in hand and you're a nutritionists worst nightmare. So, we'll compromise. Go easy on 'em, and chill with the blue-cheese dippage. Yup, just created a new word there.
Pizza pizza. Thinner crust, fewer toppings. If you're ordering out, check out my article at OneResult on why I love pizza, and how to keep it healthy.
Grilling? Go on, grab a burger. Just toss on tomato, lettuce and onion.  (Bacon doesn't belong on a burger, either). If you can't live without cheese, bargain by trading your fries for a salad.
Besides, don't you wanna save room for a super cute football chocolate covered strawberry?! Exactly.
Bottom Line: You're watching football; Unfortunately this means you don't get to eat the same amount of calories as if you were playing. Enjoy the final Sunday Funday of the season, but don't be part of the 20% increase in antacid sales on Monday morning!
GO SAINTS! WHO DAT?? (I'm kidding. Who are we cheering for?)