YAY Christmas is only 6 days away. Hopefully your shopping is done (if not, consider being a little altruistic and donating to one of these awesome small charities).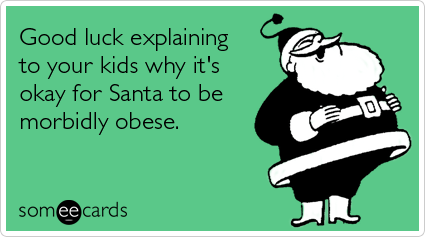 Can't help but laugh at this
someecard
, it is totally ridiculous that Santa gets away with being obese.  So I found the cutest Christmas dessert ever – no, seriously.. ever- and it will be making an appearance at our feast:
Mini Santa hat brownies.  Love these because they are portion sized (you bake them in a mini muffin tin) and they wont make you morbidly obese like Santa. There's a little fruit, and they're freaking adorable. But before you run out to grab the box of Betty Crocker brownie mix, please reconsider…
Do you see what I see? If you answered "a star, a star", high five, but this is not time for the Christmas tunes. There is partially hydrogenated oil, which is a fancy way of saying trans fat (even if the nutrition label says 0g). There are also artificial flavors, which means chemicals – artificial flavors (and colors) have been linked to increased hyperactivity, allergic reactions, headaches and cancer. Ew. In case you need more convincing, consider that many are banned in countries outside of the US. They are used because (shocker) they're cheaper than real flavors.
I'm not just picking on Betty, Pillsbury and Duncan are guilty of this too. And even Ghirardelli has artificial flavorings. If you want to stick to mixes, check out the ingredients. My absolute fave mix is Barefoot Contessa's Outrageous Brownie Mix. It's pricey ($11) but they are seriously "outrageous".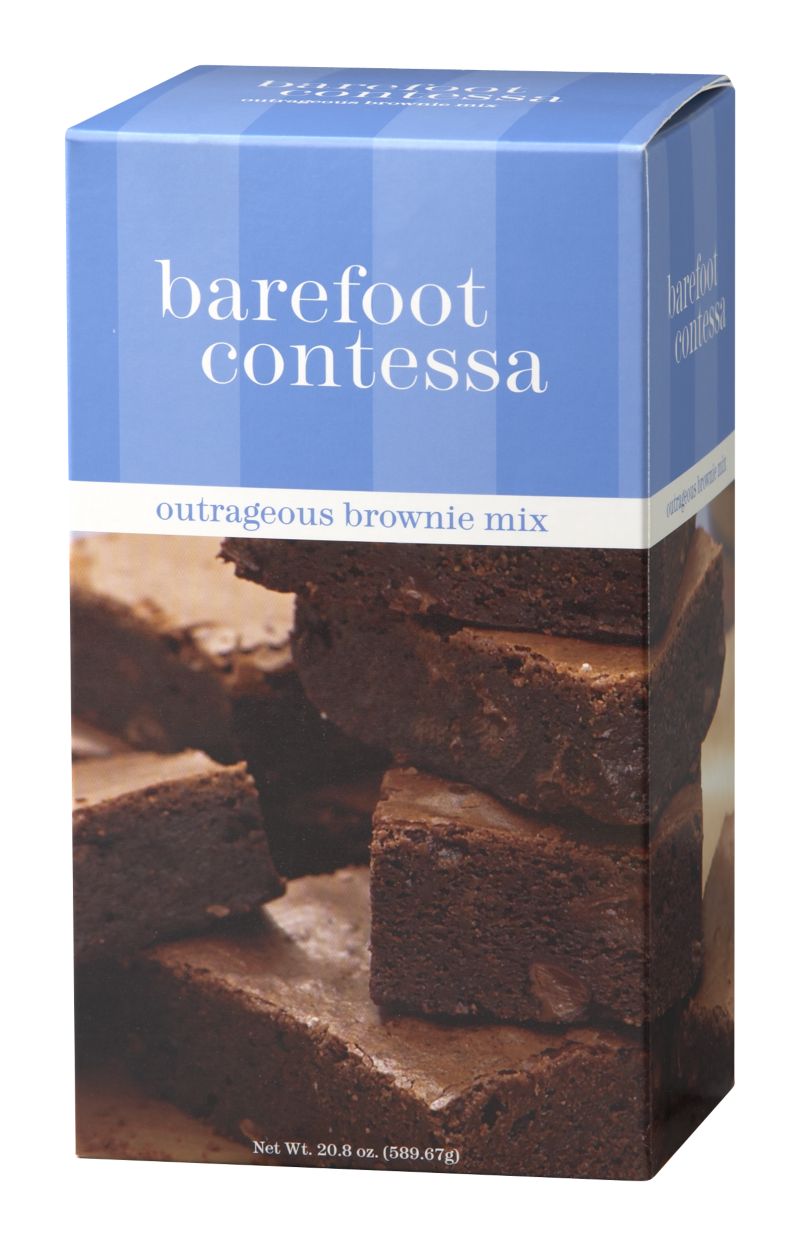 OK so back to our mini Santa hats… If you're going to make brownies from scratch (do it!) , here's a unique and yummy fudge brownie makeover recipe  from whole living.I've never had sweet potato brownies before, but I feel pretty confident they'll rock. If you want a traditional non-healthily edited recipe, check out 101 cookbooks.
Whole Living Fudge Brownie Makeover
Ingredients
For brownies
4 tablespoons (1/2 stick) unsalted butter
2/3 cup natural unsweetened cocoa powder
1/2 cup whole-wheat pastry flour
1/4 teaspoon baking powder
1/4 teaspoon salt
1 cup sugar
2/3 cup sweet-potato puree
1 large egg
1 1/2 teaspoons vanilla extract
1/4 teaspoon instant coffee powder
For Santa hats:
1 Carton organic Strawberries
1 Can of organic whipped cream
Directions
Heat oven to 350 degrees. Grease a mini muffin pan. In a medium saucepan over low heat, melt butter. Remove pan from heat, and stir in cocoa. Let cool slightly.
Meanwhile, in a small bowl, whisk together flour, baking powder, and salt.
Stir in sugar and sweet-potato puree, then egg. In a small bowl, stir together vanilla and coffee until coffee is dissolved; add to cocoa mixture.
Add flour mixture to cocoa mixture and stir until no traces of flour remain. Fill with the mini muffin tin with brownie batter. Bake at 350 degrees for 20-25 minutes.
While the brownies are cooling, cut of the tops of the strawberries.
Once the brownies are done cooling, put a layer of whip cream on top of them. Add the strawberry and put another little bit of whip cream on the tip of the strawberry. Instead of whipped cream, you can also melt white chocolate and put that in a pastry bag and pipe it onto the brownie.
(from wellillbedarned)
Ta da! Mini Santa Hat brownies. So what are you making for dessert for the holidays? Do you bake from scratch or buy mixes?